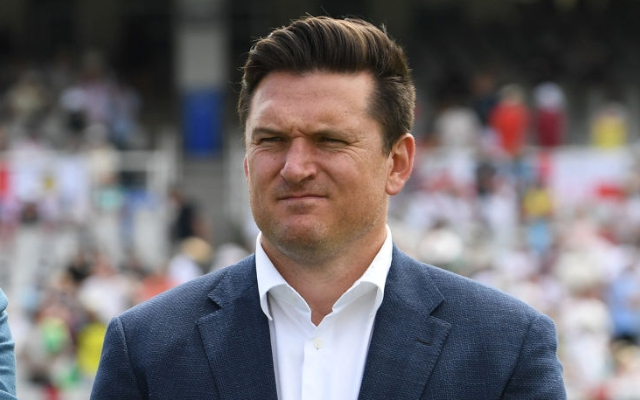 Graeme Smith. (Photo Source: Getty Images)
Graeme Smith, the Director of Cricket South Africa and former captain of the South African cricket team has offered his opinion on the double standards of certain players after the 14th edition of the Indian Premier League (IPL) was postponed.
Smith stated that there were a few players who were playing in the IPL, but were sitting and not making any noise at all in spite of the alarming rate at which the coronavirus is spreading in India. But then, the same players had refused to tour South Africa for a Test series citing Covid-19.
Smith further added that it was really disappointing to see the players indulge in such a behavior that shows their double standards.
"You see some of those players sitting there at the IPL and not making any noise. Having had experience of things here you do see some things differently, and [you see] a version of double standards. It's disappointing," said Smith as quoted by Cricbuzz.
"The players never felt at risk in India," says Graeme Smith
Graeme Smith further added that he had spoken to the South African players and they all felt safe. Smith also added that the players felt that the BioSecure Environment was a good experience in India.
"In no way would we judge. Having spoken to the players, they felt safe. They felt the BSE [Bio-Secure Environment] was a really good experience in India. They never felt at risk. But that's the nature of what Covid brings," said Smith.
The South African cricketing legend concluded by stating that the BioSecure Environment is not foolproof, especially at a time when the pandemic is raging in India.
"Sometimes you can do whatever you want but the BSE – as we've said to everyone – is never foolproof. When Covid is raging in your country there's always a risk. Unfortunately, once it gets inside it's very difficult to predict what's going to happen," concluded Smith.
Graeme Smith played 117 Tests and 197 ODIs for South Africa. While the left-hander scored 9265 runs in Test cricket, he also plundered 6989 runs in the ODI format of the game.
---
IPL 2021 Whatsapp Group link
Join our IPL 2021 WhatsApp group to get the latest news related to sports and this IPL 2021 will go crazier. You may only join this group at your own risk of privacy. If you have no objection to your privacy then Join Now.
We don't like you to share anything else rather than Ipl or sports, if you go beyond our rule you will be removed from the group without any prior notice.
IPL 2021 Facebook Group link
If you are a creator and want to share your news from IPL 2021 or related to sports then you may join our exclusive Facebook group. Please review your privacy at your own risk JOIN NOW
Who are your favorite team and your favorite player of this year do let us know in the comment below?