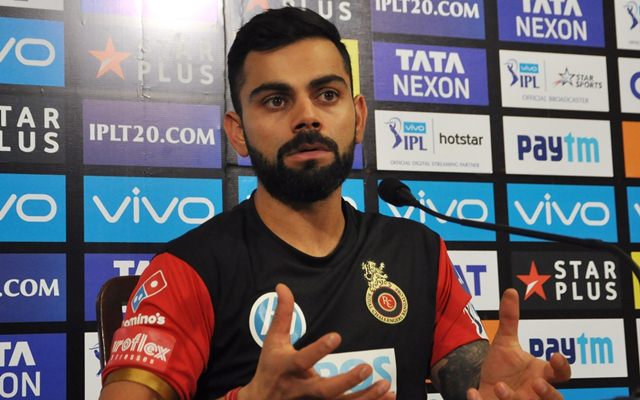 Royal Chellangers Bangalore (RCB) captain Virat Kohli addresses a press conference. (Photo by Kuntal Chakrabarty/IANS)
The Royal Challengers Bangalore (RCB) succumbed to their second defeat of the season, losing connivingly by 34 runs against the Punjab Kings. Having lost only two out of their seven league games thus far, RCB sits in top contention of the Playoffs race with lesser questions to be answered this time around.
Although their loss against the Kings raised a few questions around the batting order that the team has gone with this year. Virat Kohli, the RCB skipper, has previously admitted to making the team batting order as per the need and condition of the game but sending Rajat Patidar ahead of the likes of Glenn Maxwell and AB de Villiers has not left some pleased.
Giving the reason behind sending him at number three, Kohli termed Patidar a 'quality player' and cited the balance of the team composition. Notably, the 27-year-old had an impressive Syed Mushtaq Ali Trophy season for Madhya Pradesh (221 runs at an average of 44.2 and a strike rate of 153.5).
Rajat's a quality player: Virat Kohli
"The composition of our team is such that someone like Rajat Patidar bats at three. If you see the last game, he controlled the game for us. We give him that freedom to play at no. 3, and sometimes it doesn't work out. Maxi (Glenn Maxwell) and AB (AB de Villiers) at 4 and 5 has worked well for us; when there's a partnership early, one of them will come off. It didn't work today, but Rajat's a quality player," he said.
Speaking about where RCB lost the game, the skipper said: "They got off to a good start, but we pulled things back somewhat after five down. We should have been chasing 160 when they were 118 for 5, but we gave away 25-odd runs in the end. We focused too much on what the batters were doing and got away from our plans. We gave too many bad balls for boundaries,"
"In the end, we gave away 25 runs too many. One wicket there, and we could have squeezed them. We couldn't execute our plans. We got some runs nicely as Harshal and Jamieson hit a few runs towards the end. The margin could have been a bigger one otherwise. A loss by 60-65 runs would've hurt more in terms of the net run rate. We understand the areas where we lost momentum and need to work on those," he concluded.
RCB will face Kolkata Knight Riders (KKR) at the same venue in Ahmedabad on 3rd May 2021 (Monday).
---
IPL 2021 Whatsapp Group link
Join our IPL 2021 WhatsApp group to get the latest news related to sports and this IPL 2021 will go crazier. You may only join this group at your own risk of privacy. If you have no objection to your privacy then Join Now.
We don't like you to share anything else rather than Ipl or sports, if you go beyond our rule you will be removed from the group without any prior notice.
IPL 2021 Facebook Group link
If you are a creator and want to share your news from IPL 2021 or related to sports then you may join our exclusive Facebook group. Please review your privacy at your own risk JOIN NOW
Who are your favorite team and your favorite player of this year do let us know in the comment below?