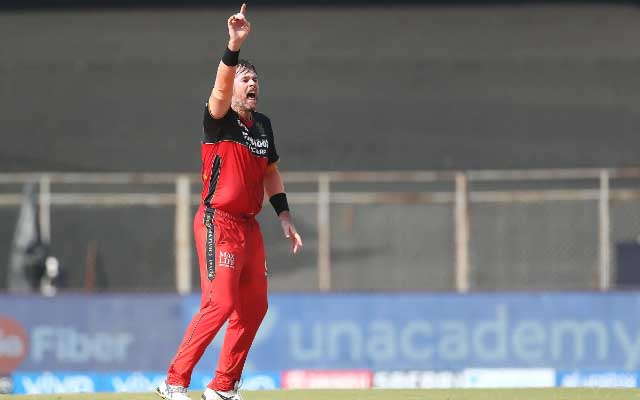 Dan Christian. (Photo Source: IPL/BCCI)
There was a piece of news that stated that Royal Challengers Bangalore (RCB) all-rounder Dan Christian had breached the contract he had with RCB by appearing on the podcast, The Grade Cricketer. Apart from Christian, RCB pacer, Kyle Jamieson was also present during the interview.
The co-host of the program, Sam Perry stated that Dan Christian had informed him that the RCB player had received a warning from the RCB franchise for a breach of contract.
Perry also revealed that Christian had asked for the interview to be removed, and due to the respect they had for Christian and his contract with RCB, the video was removed.
"I was informed by Dan Christian that he has been issued a warning for breach of contract… Dan was asked to request us to take that interview down by RCB. On account for our respect for Dan, and his contract, we have taken it down," said Perry as quoted by TimesNow.
Royal Challengers Bangalore official issues response
And now, an official of the Royal Challengers Bangalore (RCB) franchise has added that RCB issued a gentle reminder to all their players regarding the protocol of the team. The official added that just like every other season, a note has been shared with the players before the start of the 14th IPL edition as well. He further revealed that no official warning has been issued to Christian regarding the matter.
"RCB issued a gentle reminder regarding the team's media protocol to all their players recently (following Christian's interview). Like every season, that note had been shared with the players before IPL 2021 as well.
No official warning was issued to Dan Christian or any other individual player. The primary media commitments of all our players are to Indian publications, and then if time permits, overseas publications are slotted in after those," said the official in a chat with The Indian Express.
As far as the performance on the field is concerned, Dan Christian has been a disappointment. The all-rounder has scored just 3 runs in the 3 innings that he has batted in the 2021 edition of the IPL, and averages just 1.00. He has also failed to pick up even a single wicket with the ball.
---
IPL 2021 Whatsapp Group link
Join our IPL 2021 WhatsApp group to get the latest news related to sports and this IPL 2021 will go crazier. You may only join this group at your own risk of privacy. If you have no objection to your privacy then Join Now.
We don't like you to share anything else rather than Ipl or sports, if you go beyond our rule you will be removed from the group without any prior notice.
IPL 2021 Facebook Group link
If you are a creator and want to share your news from IPL 2021 or related to sports then you may join our exclusive Facebook group. Please review your privacy at your own risk JOIN NOW
Who are your favorite team and your favorite player of this year do let us know in the comment below?