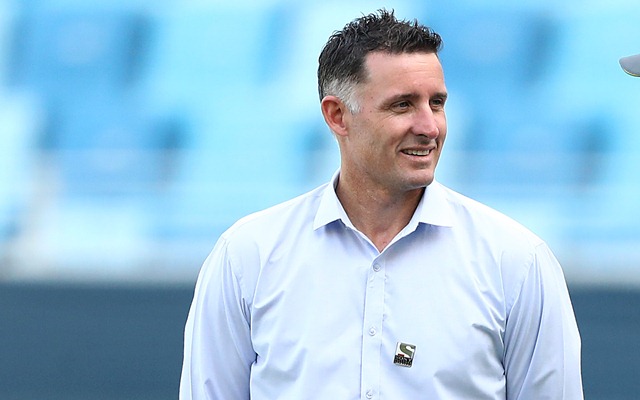 Michael Hussey. (Photo by Ryan Pierse/Getty Images)
Michael Hussey, the former Australia cricketer, was the first overseas member in the 2021 Indian Premier League to be tested positive for COVID-19. Hussey, along with a travel staff and bowling coach Laxmipathy Balaji, contracted the virus in the Chennai Super Kings' camp. Hussey enacts the role of a batting coach in the Super Kings' team.
After the developments, it was learned that their game against the Rajasthan Royals had to be rescheduled. The veteran has now moved to a quarantine facility of the team hotel in New Delhi where he will be isolating. On being enquired about his condition, Hussey said, "I am OK".
Hussey would now have to serve a 10-day quarantine period before going back to Australia. However, due to the travel restrictions to and from India, it remains to be seen when he gets to return to his home country.
Challenging times for Michael Hussey
"His (Hussey's) symptoms are relatively mild, so he's in for a stint of isolation in his hotel for at least 10 days, but his team have got some really good support systems around him, which is good," Todd Greenberg, the Australian Cricketers' Association Chief Executive, was quoted as saying in the Sydney Morning Herald.
Earlier, it was known that Hussey didn't have heavy symptoms after being tested for the novel coronavirus.
"We've spoken to Mike today. He is in good spirits. His symptoms are relatively mild. He is in a stint of isolation in his hotel room…he has good support systems around him," Greenberg said.
In the meantime, the Board of Control for Cricket in India is trying its best to organise flights for the foreign contingent in the IPL. Earlier, it was reported that the Aussie cricketers will either move to Sri Lanka or Maldives where they would quarantine before going back to their home country.
"This is a two-step process. The first step is getting them out of India and the next step is getting them safely home. We're still waiting to hear what the government are going to do post-May 15 and once we have that confirmation, we'll put the next start step in place," he added.
---
IPL 2021 Whatsapp Group link
Join our IPL 2021 WhatsApp group to get the latest news related to sports and this IPL 2021 will go crazier. You may only join this group at your own risk of privacy. If you have no objection to your privacy then Join Now.
We don't like you to share anything else rather than Ipl or sports, if you go beyond our rule you will be removed from the group without any prior notice.
IPL 2021 Facebook Group link
If you are a creator and want to share your news from IPL 2021 or related to sports then you may join our exclusive Facebook group. Please review your privacy at your own risk JOIN NOW
Who are your favorite team and your favorite player of this year do let us know in the comment below?