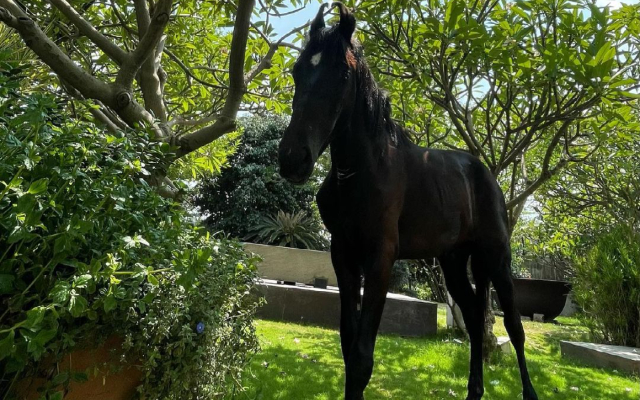 MS Dhoni's new horse. (Photo Source: Instagram)
As the Indian Premier League 2021 ended untimely due to the rise of the covid cases in the country, all players have returned home or are on the way. Chennai Super Kings skipper MS Dhoni, who returned to Ranchi recently, has purchased a new horse for his farmhouse. The Dhoni family has named the stallion, Chetak.
MS Dhoni's wife, Sakshi Dhoni uploaded a video on her social media to announce the arrival of a new member in their farmhouse. The Dhonis already have four dogs in their place, who are named Sam, Lilly, Zoya, and Gabbar. Among these, Lilly and Gabbar are white huskies, while Zoya is a dutch shepherd and Sam is a Belgian Malinois.
Sakshi uploaded a video on Instagram and welcomed their new horse. She wrote, "Welcome Home Chetak! A true Gentleman esp when you met Lilly! Happily accepted in our pack !" It should be noted that MS Dhoni's close friend and CSK teammate Ravindra Jadeja has four of these stallions. He, too, arrived at his home and posted a picture of all four of the horses which he has. He wrote on Instagram, "Back to the place where I feel safe!!" with the picture.
View this post on Instagram
View this post on Instagram
CSK staged a comeback in 2021 after a disappointing 2020 IPL
Before the IPL 2021 got postponed indefinitely, MS Dhoni and Ravindra Jadeja's Chennai Super Kings were playing their best cricket. After seven matches, CSK had won five with one of the two losses, being a really close encounter. After failing to qualify for the IPL 2020 playoffs, CSK staged a comeback in the 2021 season. Whenever the tournament resumes, Chennai will be starting as one of the favorites to lift it.
The tournament's untimely suspension meant a lot of players had to be excavated to their homes safely. It was reported by a CSK player that Dhoni decided to stay back till all the players and members of his squad were safely on their way back to their homes. The member was quoted by Indian Express.
"Mahibhai said that he will be the last person to leave the hotel. He wanted foreigners to leave first, then the Indian players. He will be taking the last flight when everyone reaches their homes safe and secure," the unnamed player said.
How IPL 2021 got suspended? Watch out
---
IPL 2021 Whatsapp Group link
Join our IPL 2021 WhatsApp group to get the latest news related to sports and this IPL 2021 will go crazier. You may only join this group at your own risk of privacy. If you have no objection to your privacy then Join Now.
We don't like you to share anything else rather than Ipl or sports, if you go beyond our rule you will be removed from the group without any prior notice.
IPL 2021 Facebook Group link
If you are a creator and want to share your news from IPL 2021 or related to sports then you may join our exclusive Facebook group. Please review your privacy at your own risk JOIN NOW
Who are your favorite team and your favorite player of this year do let us know in the comment below?