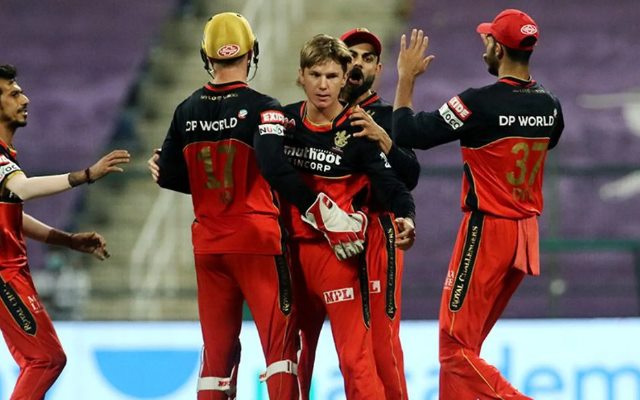 Adam Zampa. (Photo Source: IPL/BCCI)
Royal Challengers Bangalore (RCB) spinner Adam Zampa, who returned home after pulling out mid-way IPL 2021 due to COVID-19 concerns, has issued clarification regarding his statement of the Indian Premier League (IPL) bio-bubble in India being "vulnerable".
Immediately after deciding on taking an exit, Zampa had told in interaction with Sydney Morning Herald about the bio-bubble in IPL 2021 in India being vulnerable. He also added that IPL 2020 bubble in the UAE was stronger, safer and never felt vulnerable.
Adam Zampa was one of four overseas players to pull out of the tournament with his teammate Kane Richardson, Andrew Tye, and Liam Livingstone being the others. He was criticized for his comments, which led him to clarify that his comments on IPL 2021 bubble being vulnerable didn't mean he thought that the virus would get in.
The tournament is in great hands: Adam Zampa
"Thanks to everyone for the messages of concern. Kane and I have both reached Melbourne safe and sound. Firstly, thanks to RCB Management for the way they dealt with the situation. As soon as we made the choice that we felt the right thing to do was to come home, they were fully supportive and did everything they could to help. Their understanding of the situation made the process a lot easier," said Zampa in an official statement released by RCB.
"Secondly, my comments about the vulnerability of the IPL bubble had nothing to do with feeling like the virus would enter the bubble at any stage. The BCCI and RCB had many precautions to make us feel safe. I believe the tournament is in great hands and will definitely see the finish line. I am understanding the velocity of the situation in India and my thoughts go out to the whole country. It was a personal choice to leave for several reasons," he added.
Earlier, Zampa had said: "We've been in a few bubbles now, and I feel like this is probably the most vulnerable. I just feel like because it's India, we're always being told about the hygiene over here and being extra careful … I just felt like it was the most vulnerable. The IPL that was held in Dubai six months ago didn't feel that way at all. I felt like that was extremely safe."
---
IPL 2021 Whatsapp Group link
Join our IPL 2021 WhatsApp group to get the latest news related to sports and this IPL 2021 will go crazier. You may only join this group at your own risk of privacy. If you have no objection to your privacy then Join Now.
We don't like you to share anything else rather than Ipl or sports, if you go beyond our rule you will be removed from the group without any prior notice.
IPL 2021 Facebook Group link
If you are a creator and want to share your news from IPL 2021 or related to sports then you may join our exclusive Facebook group. Please review your privacy at your own risk JOIN NOW
Who are your favorite team and your favorite player of this year do let us know in the comment below?