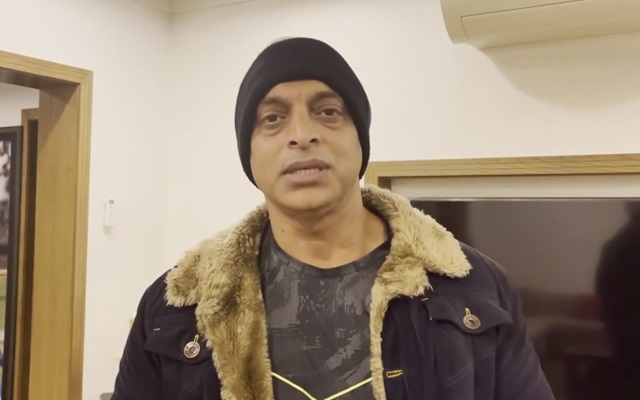 Shoaib Akhtar. (Photo Source: YouTube)
Former Pakistan fast bowler Shoaib Akhtar reckons that the Indian Premier League (IPL) and the Pakistan Super League (PSL) shouldn't take place amidst the COVID-19 pandemic. The 2021 edition of the IPL got underway on April 9 and 20 matches have already taken place in the tournament.
The 2021 PSL started in February, but after 14 matches, it had to be postponed after members of the franchises tested positive for the ungodly COVID-19 virus. However, the tournament is set to resume again on June 1 after the completion of the IPL in India on May 30.
Akhtar reckons that more than cricket, the world is in need to save peoples' lives. He mentioned that the money involved in cricket can be used to help the ones in distress in the grave global situation. The Rawalpindi Express put forth his opinions while speaking on his official YouTube channel.
We don't need cricket, heroes and entertainment at the moment: Shoaib Akhtar
"India is facing a devastating situation. They need to stop the IPL if it can't continue without strict SOPs in place but otherwise, considering that India is burning, it needs to be postponed. I'm not saying this because PSL was postponed. I also think PSL shouldn't take place in June," Akhtar said.
"IPL is not important and the money spent on it can be better used to buy oxygen tanks. That can save people from dying. We don't need cricket, heroes and entertainment at the moment. We want to save lives in India and Pakistan. I'm using these strong words because human lives are at stake," he stated.
"Pakistan is right on the edge, there is only 10 per cent oxygen capacity left. People are not following SOPs. I request the government to enforce curfew for the last 10-15 days [of Ramadan]. There is no need to go out for Eid shopping. People need to very careful and take care of themselves," Akhtar added.
On Sunday, April 25, India's COVID-19 cases leapfrogged by 349691 and hospitals across the country are turning patients away due to lack of beds and oxygen. In India, 192311 people lost their lives with the number of confirmed cases at 795627.
In Pakistan, the tally has reached 795627 with the death tolls going up to 17117. It remains to be seen how the two nations take actions in the second wave of the COVID-19 pandemic.
---
IPL 2021 Whatsapp Group link
Join our IPL 2021 WhatsApp group to get the latest news related to sports and this IPL 2021 will go crazier. You may only join this group at your own risk of privacy. If you have no objection to your privacy then Join Now.
We don't like you to share anything else rather than Ipl or sports, if you go beyond our rule you will be removed from the group without any prior notice.
IPL 2021 Facebook Group link
If you are a creator and want to share your news from IPL 2021 or related to sports then you may join our exclusive Facebook group. Please review your privacy at your own risk JOIN NOW
Who are your favorite team and your favorite player of this year do let us know in the comment below?