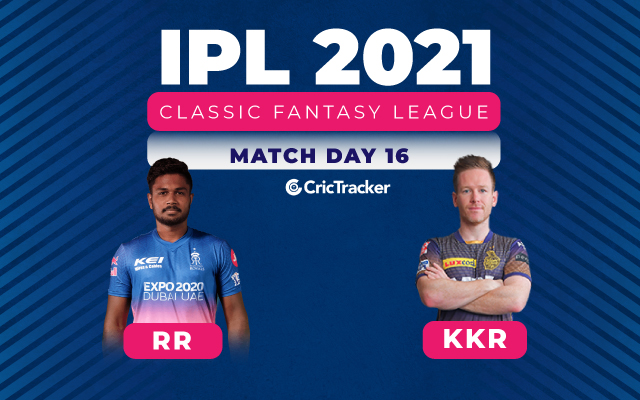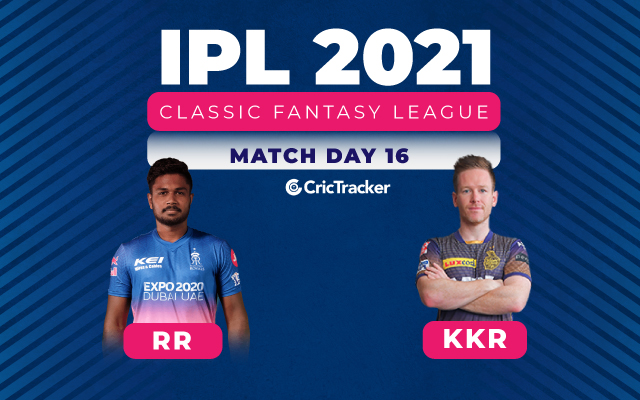 The 18th match in this IPL 2021 season will start at 7:30 PM IST, between Rajasthan Royals (RR) and Kolkata Knight Riders (KKR) in Mumbai. In this article, let us discuss the Season Long Fantasy League team setup for Match 17.
Both the teams have won just one match in this season and lost three matches. KKR have lost their previous match. However, that match showed their batting depth with the likes of Dinesh Karthik, Andre Russel and Pat Cummins scoring runs. If KKR top order batsmen manage to stop too many wickets falling in the first ten overs, their middle order can take care of accelerating the run rate. On the other hand, RR is struggling big time with both their batting and bowling.
For both the teams, this is their last match in Mumbai, before they move to their new venue. This is one good opportunity for the stroke makers from both sides to come into form. RR are taking a long break of six matches before they play their next match. Since RR played their match a day before, most of the fantasy teams might be having the players from RR.
So, it is not advisable to make any transfers to bring in any RR players, unless you want to make them as Captain or Vice Captain. KKR plays their next match on Monday. So, we will be able to carry KKR players to their next match. We currently have five players from both these teams. So, we do not want to make any transfers for this match.
Note: In the last match, Murugan Ashwin did not play. We don't have an uncapped player fitting in the budget of 7 Credits. So, we didn't make any transfers in the last match.
Players available for the Current Match: Jos Buttler (RR), Sanju Samson (RR), Chetan Sakariya (RR), Andre Russel (KKR), Shubman Gill (KKR)
Number of Transfers: None (+ One Uncapped)
Number of transfers Remaining: 86
Transfer Out: Suryakumar Yadav (MI): Mumbai Indians are taking a long break before their next match. So we are transferring him out.
Uncapped Transfer In:
Nitish Rana (KKR): Nitish Rana scored half centuries in first two matches and failed in the last two matches. Here is a good opportunity for Nitish Rana to play a good innings.
Our Fantasy Team: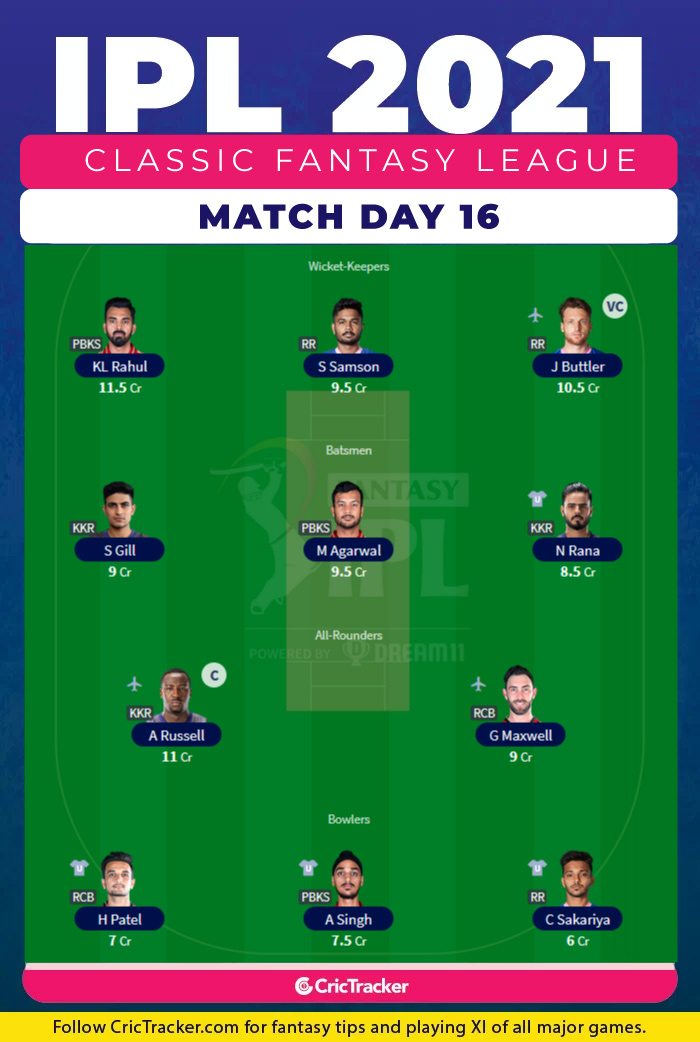 Captain: Andre Russell (KKR bats first)/Shubman Gill (KKR bats second)
Vice Captain: Jos Buttler
Andre Russell usually comes down the order when KKR is chasing. He will come up the order, when KKR bats first. He is bowling couple of overs as well. Considering his all round potential, we are making him as Captain if KKR bats first.
Dew factor in Mumbai helping the teams batting second. Accordingly we have selected Shubman Gill and Jos Buttler as our Captain/Vice Captain. A good innings is due from Shubman Gill. He could be a differential for this match as many fantasy teams might not have him in their teams due to his poor show this season so far.
Disclaimer: There is no single perfect template to play fantasy league. Understand that this is our way of playing the game. We provide the rationale behind our player selection, which you may or may not agree with it. Just understand the key insights from the article and play it in your style and have fun.
---
IPL 2021 Whatsapp Group link
Join our IPL 2021 WhatsApp group to get the latest news related to sports and this IPL 2021 will go crazier. You may only join this group at your own risk of privacy. If you have no objection to your privacy then Join Now.
We don't like you to share anything else rather than Ipl or sports, if you go beyond our rule you will be removed from the group without any prior notice.
IPL 2021 Facebook Group link
If you are a creator and want to share your news from IPL 2021 or related to sports then you may join our exclusive Facebook group. Please review your privacy at your own risk JOIN NOW
Who are your favorite team and your favorite player of this year do let us know in the comment below?