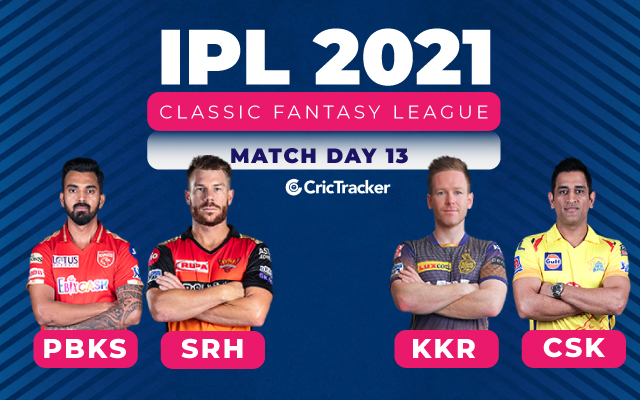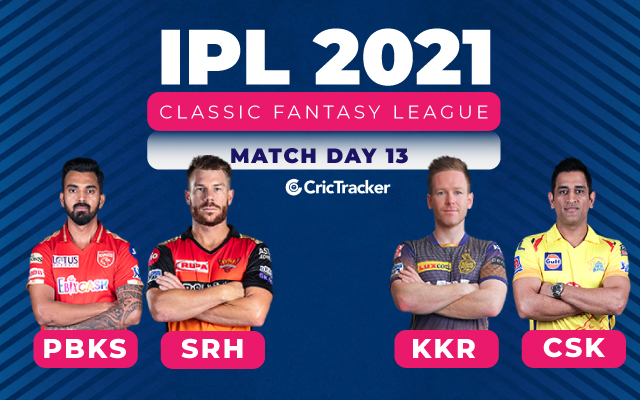 The second double-header in the IPL season 2021 begins on 21st Apr. The first match is between Punjab Kings (PBKS) vs Sunrisers Hyderabad (SRH) at 3:30 PM IST in Chennai. The second match of the day starts at 7:30 pm between Kolkata Knight Riders (KKR) vs Chennai Super Kings (CSK) in Mumbai. This is a two-part article covering the Season Long Fantasy League team setup for both the matches, Match 14 and 15.
In the last IPL season official fantasy league, on double-header match days, we had to make transfers for both matches at once before the start of the first match. But this season, it has been changed and we can make transfers per match before the start of each match.
---
Match 14, PBKS vs SRH
Both these teams are currently placed at the bottom of the points table. While SRH has lost all their three matches, PBKS has lost two and escaped one defeat by a narrow margin. This is a change of venue for Punjab. So far they have played on batting friendly Mumbai decks and now they will have to adapt to slower Chennai tracks. SRH are likely to make more changes again, while Punjab are likely to make slight changes in their bowling to suit Chennai tracks.
SRH has a long six-match gap after this match. So it is not at all advisable to get more than one player from SRH team. Punjab plays their next match in three days span. So we can easily carry PBKS players from this match to their next match. We currently have three players from PBKS team and have no player from SRH team. We will transfer in one player from SRH to make him as Captain/Vice Captain and we will transfer out that SRH player after this match.
Players available for the Current Match: KL Rahul (PBKS), Mayank Agarwal (PBKS), Arshdeep Singh (PBKS)
Number of Transfers: One (+ One Uncapped)
Number of Transfers Remaining: 90
Transfer Out:
Rishabh Pant (DC), Shikhar Dhawan (DC): As discussed in the previous article, we want to transfer out DC players as they are taking a long break before their next match.
Transfer In:
David Warner: David Warner is the most consistent run-getter. He might want to stay longer at the crease to stop exposing their vulnerable middle order.
Uncapped Transfer In:
Ravi Bishnoi/Murugan Ashwin/Deepak Hooda (PBKS): Punjab are likely to rest one of their pace bowlers (Riley Meredith) and add spin bowling option to their attack. Murugan Ashwin, though he was ineffective in the previous matches, still might make to the final XI due to familiarity with Chennai pitch. Ravi Bishnoi was very impressive last season and it will be interesting to see if he makes it to final XI.
Our Fantasy Team for Match 14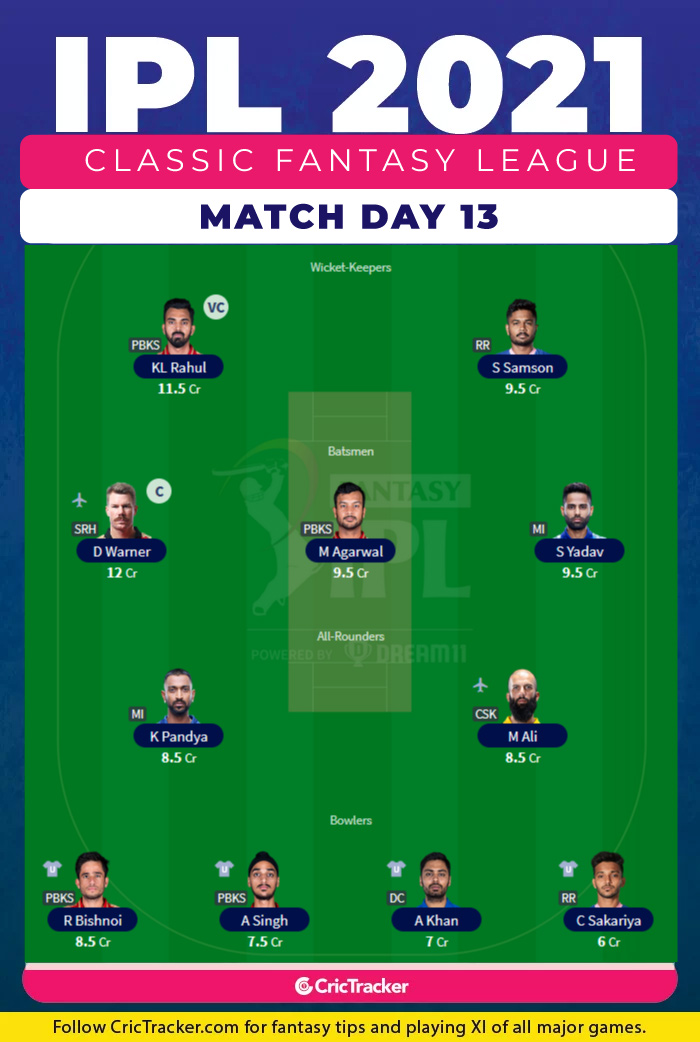 Captain: David Warner (SRH) if SRH bats first / KL Rahul (PBKS) if PBKS bats first
Vice Captain: KL Rahul (PBKS) if SRH bats first / David Warner(SRH) if PBKS bats first
We will choose our captain between David Warner and KL Rahul based on which team bats first.
Other Players: Rashid Khan and Jonny Bairstow are other good fantasy options to consider if you want to accommodate more SRH players into the team.
---
Match 15, KKR vs CSK
KKR struggled big time with their batting unit so far in the season. The change of venue (Chennai To Mumbai) should bring life back to their batting unit. In the last match, Brendon McCullum hinted that Sunil Narine is likely to make an entry in this match. So, we will have to watch out what changes will it bring in the batting order.
KKR will be playing their two consecutive matches in four days and CSK will be playing their next two matches in five days span. So we will be able to carry few players to their next matches. RR and RCB are also going to play their next matches in three and four match span. So, we can't bring in too many players for this match. We currently have just one CSK player for this match and we will bring in two more players from KKR to this match.
Players available for the Current Match: Moeen Ali (CSK)
Number of Transfers: Two (+ One Uncapped)
Number of transfers Remaining: 88
Transfer Out:
David Warner (SRH), Avesh Khan (DC): SRH and DC and play their next match after a long gap of six matches. So these players should be transferred out from our season fantasy team.
Krunal Pandya (MI): Krunal Pandya is not getting enough batting time. Though his bowling is good, he is not getting too many wickets. Considering we have other good all round options, we are transferring him out.
Transfer In:
Shubman Gill (KKR): Shubman Gill was playing so well in the last match. But he got out to a stunning catch. A good knock is due from him and Mumbai could be the perfect venue to launch his best game.
Andre Russell (KKR): Even though he is struggling with his batting form, he is bowling well in death overs. So we are transferring him to our fantasy team considering his all round potential.
Uncapped Transfer In:
Nitish Rana (KKR): Nitish Rana has been the only in-form KKR batsman so far this season. He is definitely the best uncapped pick for this match. Varun Chakravarthy is the other good uncapped pick. Since KKR is playing in Mumbai, not Chennai, it's better to get the in-form batsman over the mystery spinner.
Our Fantasy team for Match 15: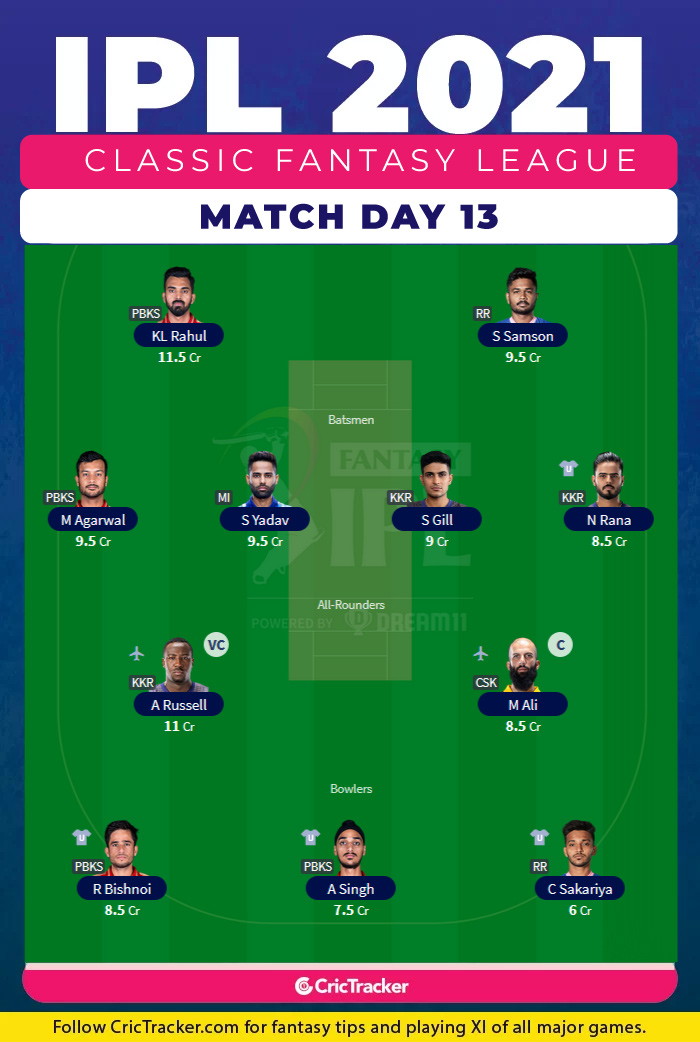 Captain: Andre Russell (KKR bats first) / Moeen Ali (CSK bats first)
Vice Captain: Moeen Ali (KKR bats first) / Shubman Gill (CSK bats first)
Andre Russell usually bats up the order only if KKR bats first. When KKR bats second, he will be coming way down the order. So we will consider him for Captaincy/Vice Captaincy option only when KKR bats first. Moeen Ali was in brilliant form with both bat and ball. His all round abilities make him the automatic choice for Captaincy/Vice Captaincy option.
---
IPL 2021 Whatsapp Group link
Join our IPL 2021 WhatsApp group to get the latest news related to sports and this IPL 2021 will go crazier. You may only join this group at your own risk of privacy. If you have no objection to your privacy then Join Now.
We don't like you to share anything else rather than Ipl or sports, if you go beyond our rule you will be removed from the group without any prior notice.
IPL 2021 Facebook Group link
If you are a creator and want to share your news from IPL 2021 or related to sports then you may join our exclusive Facebook group. Please review your privacy at your own risk JOIN NOW
Who are your favorite team and your favorite player of this year do let us know in the comment below?