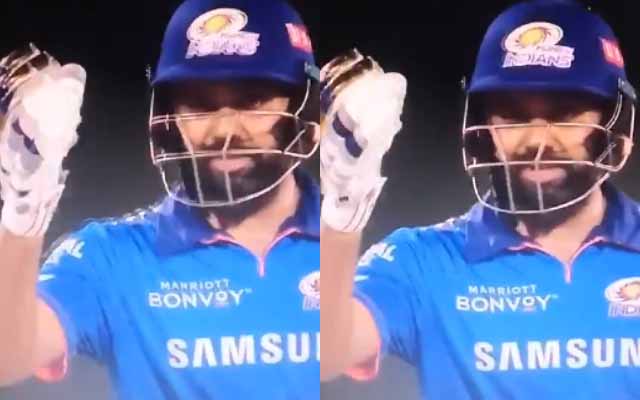 Rohit Sharma abusing Umpire. (Photo Source: Twitter)
Showing displeasure at an umpire's decision is something that might land a player in trouble. Even if the umpire is wrong, the player is not expected to indulge in showing dissent, as cricket is ultimately a 'Gentleman's Game'.
One such incident where a player showed displeasure over an umpiring decision took place in the match between Mumbai Indians (MI) and Punjab Kings (PBKS) on 23rd April 2021. During the 1st over of the Mumbai Indians' innings, Rohit was given out by the on-field umpire. The ball from Moises Henriques was delivered on the leg side, the fielding team went for the appeal, and the umpire raised his finger. As soon as the umpire made his decision, the 'Hitman' was frustrated.
Rohit even signaled his displeasure to the umpire by gesturing towards him. The reviews confirmed that Rohit had not nicked the ball. However, the IPL Code of Conduct states that the wrong decision given by the umpire should not be used as a 'defence' by a player.
"It shall not be a defence to any charge brought under this article to show that the umpire might have, or in fact did, get any decision wrong," states the IPL Code of Conduct.
You can watch the video of the incident below
— Cricket Unlimi (@CricketUnlimi) April 23, 2021
Rohit Sharma led Mumbai Indians goes down to Punjab Kings
The Mumbai Indians side was thrashed by the Punjab Kings on 23rd April 2021. After wielding the willow first, the Rohit Sharma led side posted a total of 131/6 on the board. In fact, it was the 'Hitman' who led Mumbai's charge with the willow and scored 63 out of the 131 runs that they put up on the board.
The Punjab Kings (PBKS) romped home with ease. The likes of KL Rahul and Chris Gayle ripped apart the Mumbai bowling attack and the KL Rahul led side cantered home with 9 wickets and 2.2 overs to spare. While Rahul scored a sedate 60* off 52 deliveries, Chris Gayle provided excellent support to Rahul, and scored a handy 43* off 35 deliveries.
It is to be noted here that Rohit has already been pulled up for slow over-rate in this tournament and has been fined a sum of INR 12 Lakhs.
---
IPL 2021 Whatsapp Group link
Join our IPL 2021 WhatsApp group to get the latest news related to sports and this IPL 2021 will go crazier. You may only join this group at your own risk of privacy. If you have no objection to your privacy then Join Now.
We don't like you to share anything else rather than Ipl or sports, if you go beyond our rule you will be removed from the group without any prior notice.
IPL 2021 Facebook Group link
If you are a creator and want to share your news from IPL 2021 or related to sports then you may join our exclusive Facebook group. Please review your privacy at your own risk JOIN NOW
Who are your favorite team and your favorite player of this year do let us know in the comment below?