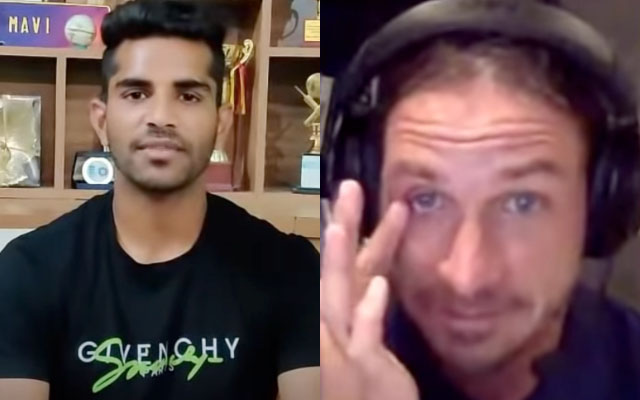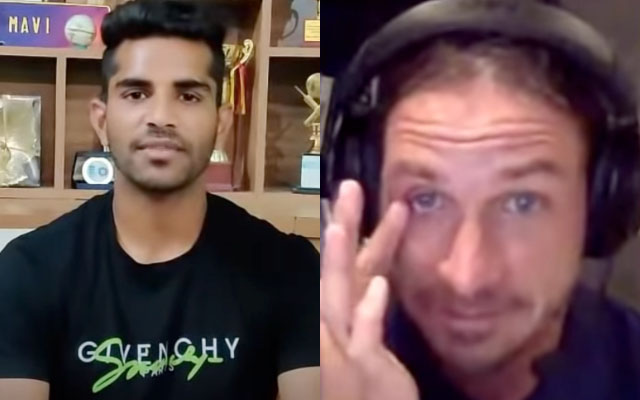 Sometimes, it is a wonderful moment when somebody calls you their idol and has looked up to you all their life. And, the feeling gets even sweeter when both are involved in the same profession.
One such moment took place in the 'T20 Timeout' Show that was hosted by ESPNCricinfo. Dale Steyn and Aakash Chopra were the two experts who were involved in the show. And, during the show, Kolkata Knight Riders (KKR) pacer Shivam Mavi called Dale Steyn his idol.
Mavi said that he had followed Steyn ever since he started playing cricket. The 22-year-old also added that he used to follow Steyn and learn how to bowl. Mavi said that even though he follows other bowlers such as Jasprit Bumrah and Bhuvneshwar Kumar as well, his idol has always been Dale Steyn.
"Ever since I began playing the sport, I used to follow Dale Steyn very closely. When I started bowling, I used to be able to bowl outswingers and I used to follow Dale Steyn while trying to learn how to bowl. I follow the tactics of some other bowlers too, such as Bumrah and Bhuvneshwar, but my idol has always been Dale Steyn," said Mavi during the show.
Dale Steyn gets emotional listening to Shivam Mavi
After hearing this, Dale Steyn became emotional. The South African bowling legend stated that Mavi's words brought a tear to his eye. Steyn also said that he never expected that he would go on to have an impact on people living in different parts of the world.
Adding that he still loves playing, Steyn stated that if Mavi continues to perform like this, he will go on to represent India. Steyn concluded by stating that he would love to get in touch with Shivam Mavi.
"It's pretty amazing. Almost like he brings a tear to my eyes to be honest with you, I am not going to lie. I never expected to play this game and have an impact on people that live at opposite ends of the world. I still play, which is still great, I still love playing.
But, that's amazing. I hope that he (Mavi) can push on and these kinds of performances will get him into teams that he wants to play for, India, and also play a bigger part for Kolkata. I would love to get in touch with him at some point, that would be a dream come true for me too," concluded Steyn.
Watch the video
---
IPL 2021 Whatsapp Group link
Join our IPL 2021 WhatsApp group to get the latest news related to sports and this IPL 2021 will go crazier. You may only join this group at your own risk of privacy. If you have no objection to your privacy then Join Now.
We don't like you to share anything else rather than Ipl or sports, if you go beyond our rule you will be removed from the group without any prior notice.
IPL 2021 Facebook Group link
If you are a creator and want to share your news from IPL 2021 or related to sports then you may join our exclusive Facebook group. Please review your privacy at your own risk JOIN NOW
Who are your favorite team and your favorite player of this year do let us know in the comment below?