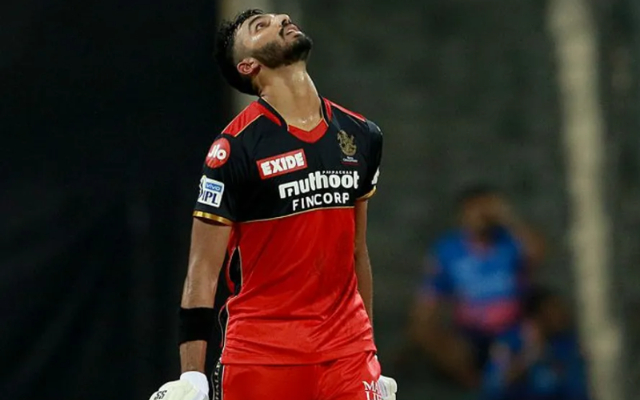 Devdutt Padikkal. (Photo Source: IPL/BCCI)
Devdutt Padikkal carved out a masterclass on 22nd April 2021 in the match between Royal Challengers Bangalore (RCB) and Rajasthan Royals (RR). Opening the batting, Padikkal scored a resplendent 101* off 52 deliveries to allow the RCB side to thrash their opponents by 10 wickets.
And now, the Director of Cricket for the Rajasthan Royals franchise, Kumar Sangakkara has heaped praise on Padikkal. Terming Padikkal's innings as exceptional, Sangakkara stated that the left-handed RCB batsman played the shots he knew he could.
Sangakkara also added that Padikkal was able to anticipate some of the deliveries from the Rajasthan Royals (RR) bowlers beforehand with the field that was set.
"It was an exceptional innings (from Devdutt Padikkal). He batted really well. Played the shots that he knew he could play. He anticipated some of the deliveries that were going to be bowled, with the field set," said Sangakkara in a virtual press conference.
"Devdutt Padikkal showed a lot of maturity," says Kumar Sangakkara
Kumar Sangakkara further opined that Padikkal showed a lot of maturity out in the middle. Adding that there was a lot of conversation going on between Padikkal and Virat Kohli, Sangakkara said that Padikkal put on an impressive show.
"I thought he showed a lot of maturity to bat through. Of course, he was batting with Virat (Kohli). So, there was a lot of conversation out there. Lot of talk about what to do and how to do it. It was very impressive," said Sangakkara.
The former Sri Lankan cricketer also stated that Shivam Dube showed a lot of intensity and awareness. Adding that playing spin is Dube's real strength, Sangakkara said that Dube has the ability to dominate the spinners. The 43-year-old concluded by stating that the Rajasthan side has to improve as games can slip out of their hands quickly.
"I thought Shivam (Dube) batted really well. He showed a lot of intensity and awareness. One of the things that he matches up well against is spin, and that is his real strength. Today, he showed that he has the ability to try and dominate the slow bowlers. He batted smartly. He got out a bit ahead of time, but the lower order fought really well (after a top-order collapse). But we have got to learn and improve. Games can slip by quickly," concluded Sangakkara.
---
IPL 2021 Whatsapp Group link
Join our IPL 2021 WhatsApp group to get the latest news related to sports and this IPL 2021 will go crazier. You may only join this group at your own risk of privacy. If you have no objection to your privacy then Join Now.
We don't like you to share anything else rather than Ipl or sports, if you go beyond our rule you will be removed from the group without any prior notice.
IPL 2021 Facebook Group link
If you are a creator and want to share your news from IPL 2021 or related to sports then you may join our exclusive Facebook group. Please review your privacy at your own risk JOIN NOW
Who are your favorite team and your favorite player of this year do let us know in the comment below?